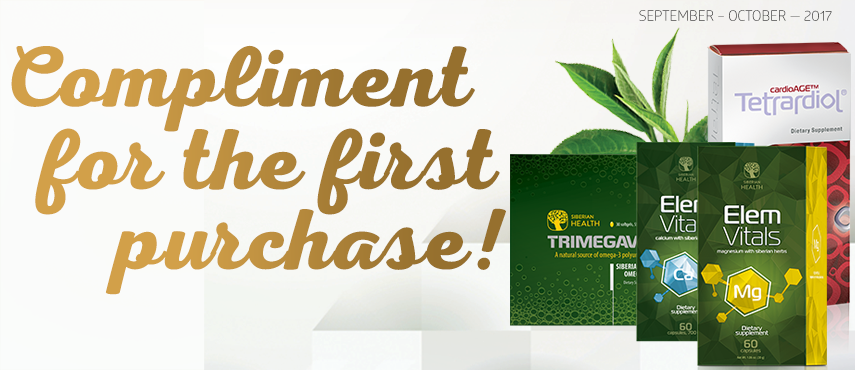 Being healthy, looking beautiful and running your own business is the dream of many. With Siberian Health anyone can make this dream come true, gain financial freedom and become successful!
Especially for those who want to develop personally and professionally, to study the world and make amazing discoveries, we prepared the promotion with a compliment for the first purchase.
1. PURCHASE TRULY SIBERIAN PRODUCTS FOR 100 OR 150 POINTS OR MORE.*
2. GET SIBERIAN HEALTH'S BEST SELLERS FREE OF CHARGE OR AT HALF PRICE!
3. CHANGE YOUR LIFE FOR THE BETTER, EVOLVE, AND GET EVEN MORE BONUSES!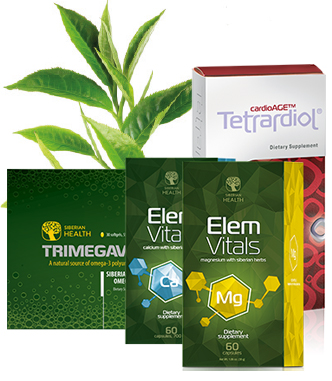 Cardiovascular protection –
TETRARDIOL
Blood vessels support –
TRIMEGAVITALS. SIBERIAN LINSEED OIL AND OMEGA-3 CONCENTRATE
Natural bone strength –
ELEMVITALS. CALCIUM AND SIBERIAN HERBS
Full-scale body support –
ELEMVITALS. IRON WITH SIBERIAN HERBS
* The Promotion applies to the first one-time purchase within the registration day. One point equals to about $ХХ. For points content info of the products, please refer to the price list or Company website www.siberianhealth.com.
Crave for more? Exploit new opportunities and alter your life for the better!
1. Join Siberian Health business and recommend Company products to your friends and acquaintances.
2. Perform a Personal Volume of 200 points , by the end of the month of registration, become a member of the Personal Debut Program and receive additional savings on the Company products purchases within 6 months.
3. Increase your Personal Volume up to 500 points, get a free ticket to the International Business Session and attend professional business seminars.
THE PROMOTION CONDITIONS:
(

open

)
Discover new opportunities with Siberian Health
- immerse into the world of big business. Develop yourself and strike new heights with us!