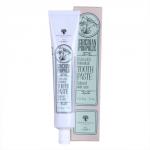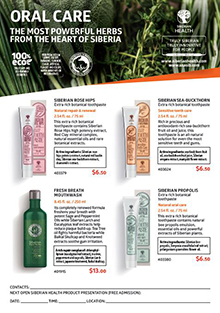 Natural Toothpaste Oral Care With Propolis
# 400758 75 ml
Natural Oral Care
Extra rich botanical toothpaste contains natural bee propolis emulsion, essential oils and powerful extracts of Siberian plants. Free from sodium lauryl sulfate, fluoride, sugar, artifical flavors and colors, harsh abrasives or preservatives.
Siberian bee propolis provides the most comprehensive oral care may help to naturally inhibit bad breath.
Siberian plants such as bergenia, sea buckthorn and sage help to maintain healthy teeth and gums.
Essential oils are famous for their-natural antimicrobial effect and ability to promote healthy blood flow.
Recommended use
Brush your teeth and adjoining gums at least twice a day.
Active ingredients: siberian bee propolis, bergenia crassifolia leaf extract, pelargonium graveolens flower oil.