Taste Siberia all summer long!
Summertime with Siberian Health will be truly hot: the Promotion "Taste Siberia" will be valid all summer in honor of the Company's 20th anniversary. Seize the moment to get bonuses up to 40 dollars for a product purchase!
Siberian Health has been one of the largest Russian companies producing Dietary Supplements and Cosmetics so far for 20 years. We have already done a lot, much more we have ahead. Siberian Health is famous in 25 countries all over the world. Millions of people choose our products because each of it is produced basing on natural Siberian herbs. All Company products fully compliant with the strictest ecological standards. Setting our goal is human wellbeing we have developed health support and beauty products so far for 20 years.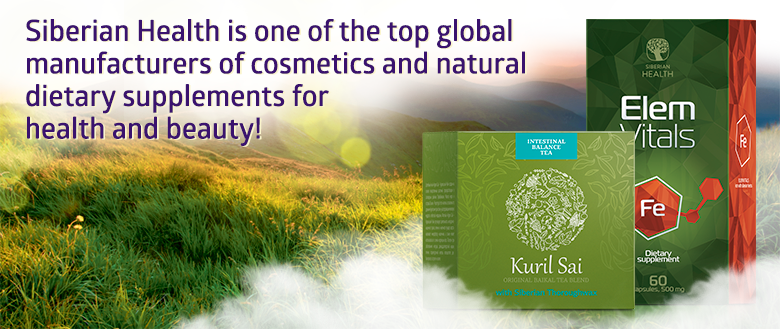 TASTE SIBERIAN HEALTH AND GET
DOUBLE ADVANTAGE!

• Visit Company Servicing Center or e-shop.
• Register as a Company Consultant and get 25%* from each purchase on the bonus account.
• Don't forget about special bonus on the occasion of the Company's 20th anniversary (upon one-time purchase within the registration day):



THE PROMOTION CONDITIONS (

roll open

)

1. The Promotion period: from June 1 till August 31, 2016.
2. The Promotion participants: new Siberian Health Consultants in the USA, who have registered with the Company during the Promotion period.
3. The purchases for the points, made within the day of Consultant's registration, are counted toward the Promotion. Bonuses for purchasing merchandise and printed materials are not credited.
4. Promotional bonuses are calculated monthly, before the fifth day of the month following the promotion month.
5. Bonuses are fixed. A participant will be credited only one bonus for one month. A greater bonus overrides a smaller one.
6. Bonuses can be used only once in Company Servicing Center (CSC) within the next calendar month. The Bonuses which are not used within a month are annulled. If bonuses are not completely used, the remain bonuses will be taken off.
7. Commissions (points) for the used promotion bonuses are not credited.
8. Information about the credited bonuses can be found in CSC.
Join the Promotion "Taste Siberia" right now!