To Siberian Health Together With Friends!
January – February 2018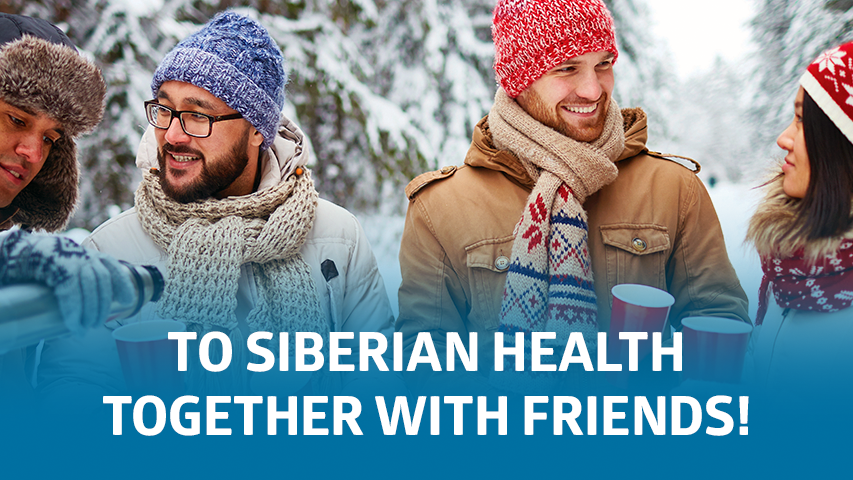 1.
GIVE IT A TRY



more than 200 natural products for health, sport, beauty, and household await you.

2.
LIKED IT? THEN
REGISTER
AS A CONSULTANT,



make purchases for 100 points* and get 25% on your Health Budget bonus account.


3.
INVITE YOUR FRIEND – GET A TEA SET AS A GIFT!



5 different natural teas from the Healing herbs of Olkhon collection (if your friend also makes purchases for 100 points* or more).


* To learn number of points
of any product, please refer
to the Company's price list.
TERMS OF THE PROMOTION:
(

roll open

)
1. The Promotion period: January 1st - February 28th, 2018
2. The Promotion participants: new Siberian Health Consultants signed up the Agreement within the Promotion period, including those who changed their status from the Privileged Client for the first time in the USA and fulfilled Personal Volume of 100 points or more within the registration month.
3. The gift (five different teas of your choice) is given for enrollment of new Consultant to the first line with Personal Volume of 100 points or more for the whole Promotion period.
4. The Personal Volume of Promotion participant and enrolled new Consultant does not include Privileged Clients' points.
5. The one-time calculation is made according to the Promotion results up to March 5th, 2018.
6. Gift sets are given away in the Company Servicing Centers March 5th - March 31st, 2018. Once this period is expired, all accumulations are annulled.
7. No Commission (points) are being credited for the gifts.
8. 25% bonus is credited to the Health Budget for every purchase according to the Company's Compensation plan.

MORE about «GOLDEN JANUARY»
BEAUTY
WELL-BEING
KIDS

PURE HERBAL COSMETICS

DIETARY SUPPLEMENTS BASED ON BOTANICAL COMPONENTS

ECO-PRODUCTS FOR CHILDREN