Delicate cleansing – a gift from nature!
Meet the spring novelty by Siberian Wellness – a gentle cleanser of the Experalta Platinum series with a herbal formula based on Siberian cedar oil and linseed extract.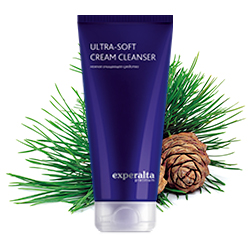 Turn your cleansing routine into pure delight! Ultra-Soft Cream Cleanser suits even sensitive skin that fears soap-based products. Thanks to the plant-based formula infused with the Siberian cedar seed oil and extract of linseeds that softens skin, as well as with extract of Altai lingzhi mushroom – a rich source of antioxidants, it effectively dissolves skin impurities and makeup without over-drying.
Active ingredients: oils of Siberian cedar and soy, flower extracts of arnica, amaranth, hibiscus, linseeds, licorice and ganoderma.
Find it in the Company Servicing Centers or
order via Siberian Wellness' E-shop!