WHY SIBERIAN HEALTH?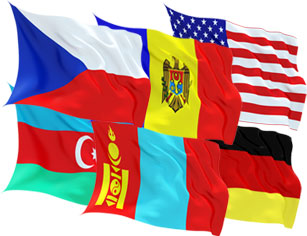 The Corporation's products now enjoy widespread popularity. Our Partners are successfully working in Russia, Europe, Asia and USA.
Siberian Health is one of the most dynamically growing MLM companies in the former USSR market.
Over the previous business year
Siberian Health's sales revenues grew by over 81%!
Over the last 6 years the Company has rewarded a Mercedes to more than 60 Consultants!
It's very important for us that we are part of such a large-scale and significant effort to improve health throughout the world. The Corporation offers its clients not only innovative, patent protected products which pass clinical trials. We offer long-term relationships with Clients and help them to choose healthier life styles. By making the investment of our work and talent into something available for everyone, helping everyone develop a profitable and health-enhancing business we and our Partners are taking care of the future – ours, yours and that of our children and our countries
| | | |
| --- | --- | --- |
| | | Our own in-house production makes for the best price/quality ratio. |
| | | Our own in-house Research and Innovation Center. |
| | | Developing the most modern scientific trends: chronobiology, micronutrientology, adaptive medicine. |
| | | Our own patented scientific developments. |
| | | The most dynamic process of evolving formulas and varieties. |
| | | A professional educational system for consultants. |
| | | Tens of thousands of Success stories from people all over the world. People just like you. |
An advanced system of direct sales has been chosen to promote our products. This idea works on any market, in any country and with any product.
You tell other people about the products which you liked yourself. In presenting the products you rely upon your own experience. We are talking about creating a market by means of passing information from one person to another, i.e., about a sales system, based mostly on interpersonal relationships. People relationships are the principal motivating engine of the System. Direct sales companies don't spend millions on advertising. That is why the customer pays less, while at the same time receiving individual consultation and quality products.
Direct sales is a great way to increase your income or achieve financial independence. We have built a System of education and career growth so any dynamic person can join Corporation's business really quickly.


Personal sales
give you a guaranteed 25% of the retail value of all the products that you have sold yourself or that your clients have bought because of your recommendation. A specially developed monitoring system manages operation accuracy, so you can see how much you have earned at any time and receive your guaranteed 25% at the end of the month.



Creating your sales network –
i.e., creating a group of people whom you introduced to the Company, trained and supported in creating their own business. For this you will receive 10-12% of your network's retail revenue.