New Ice Touch Instant Lift Mask: an instant flawless transformation!
Is your schedule unpredictable and your life — hectic with events? Do you often have to look impeccable at a moment's notice? Well then, this amazing novelty by Siberian Wellness will become an indispensable part of your express care routine.
We are proud to present a novelty in Experalta Platinum Line for delicate and effective skin care in no time at all!
Enriched with botanical extracts and crambe oil, this cooling face mask ensures intensive skin care in your beauty routine.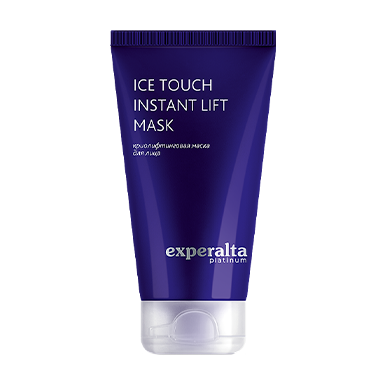 wakes up your skin
removes signs of fatigue
decreases puffiness
provides lifting effect
a must-have on a hot summer day and go-to solution in a rush.
Active ingredients:
crambe abyssinica seed oil, flower extracts of water-cress, arnica, marigold, organic minerals (magnesium, copper, zinc), vitamin E.

How does it work?
Fifteen minutes – including the time for applying and washing it off – and your skin exudes beauty, just as you are ready to charm and impress!

Want to know more about a product?
To find more please check out our online catalogue and the Company's website.
Luxurious skin care does not take much time any more!
Find the products for purchase in our e-shop and Company Servicing Centers!