Home
→ Natural Toothpaste Repair & Renewal With Sea-Buckthorn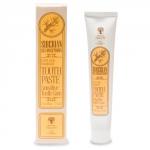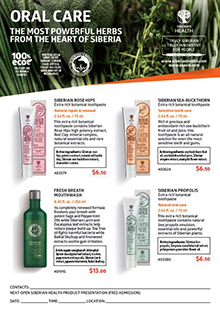 Natural Toothpaste Repair & Renewal With Sea-Buckthorn
# 403024 2.54 FL Oz / 75 ml
Benefits:

The most efficient and powerful natural ingredients, Siberian Wild Rose extracts and red clay improves gums, helps restore tissue in the mouth, and effectively strengthens tooth enamel.
Active extracts of medicinal plants of Siberia - Siberian juniper, buckthorn, sage, and chamomile - prevent the development of inflammation and periodontal disease; suppress the activity of cariogenic bacteria.
Essential oils are famous for their natural antimicrobial effect and ability to promote healthy blood flow.
Recommended use
Brush your teeth and adjoining gums at least twice a day.
* NO Sodium Lauryl Sulfate
* NO Fluoride
* NO Sugar
* NO Artificial flavors & colors
* NO Harsh abrasives
* NO preservatives