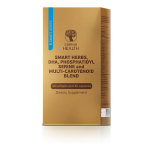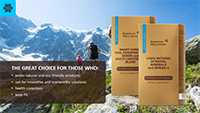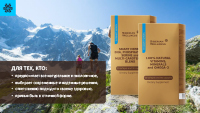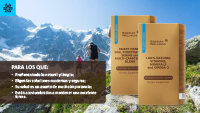 Smart Herbs, DHA, Phosphatidyl Serine and Multi-Carotenoid Blend
# 500482 30 softgels and 30 caplsules
NEW SERIES OF SMART PRODUCTS
ULTIMATE VISION, BRAIN AND CENTRAL NERVOUS SYSTEM SUPPORT.
The unique blend of the most powerful standardized herbal extracts, docosahexaenoic acid (DHA), natural lutein, zeaxanthin, beta-carotene and phosphatidylserine to provide maximum support formaintaining high mental performance and good vision.
GREAT CHOICE FOR THOSE WHO:
Prefer natural and eco-friendly products
Opt for innovative and trustworthy solutions
Health-conscious
Stay in shape
GINSENG EXTRACT
Active components enhance cognitive performance and improve memory.
BILBERRY EXTRACT
Contains 36% of anthocyanins, the strongest antioxidants for eyes.
SAGE EXTRACT
Improves memory and delivers calming effect to nervous system.
PHOSPHATIDYL SERINE
It is an essential component of brain cell membranes that promotes its normal functioning.
HIGH-PURITY CONCENTRATE OF DOCOSAHEXAENOIC ACID
The source of the essential omega-3 that selectively accumulates in brain cells and visual system.
GINKGO BILOBA EXTRACT
Improves cerebral blood flow.
Ensures braincells saturation with oxygen and nutrients.
Enhances mental performance and concentration.
Natural Beta-Carotene From CaroCare
Supports vision and overall eyes' health, provides antioxidant protection
Natural Lutein from FloraGLO®
Natural Zeaxanthinfrom OptiSharp®
Natural pigments and light filters protect the visual cells from light damage.
Recommended use
one sofgel and one capsul daily
Ingridients: vitamin A (as natural beta-carotene from CaroCare®), ginkgo biloba extract (standardized to 24% flavone glycosides, 6% terpene lactones), proprietary NeuroSmartTM blend (extracts of sage, panax ginseng and bilberry (36% anthocyanins); phosphatidylserine), ultra-pure DHA oil (70% DHA), lutein (from FloraGLO®) zeaxanthin (from OptiSharp®).